Vegan Dining at Disney World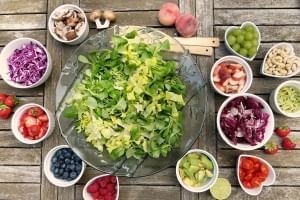 November is World Vegan Month, and whether you're looking for ways to celebrate veganism during your Orlando vacation or you're just trying out a new diet, Walt Disney World has plenty of dining options to go around.
Celebrate World Vegan Month in your own way by checking out the many vegan dining options Disney has to offer.
Vegan Eats in Magic Kingdom
Magic Kingdom is not only Walt Disney World's first park, but it's also their most popular. We love that their dining options are so inclusive, especially because they welcome people from all walks of life. For the vegans vacationing during World Vegan Month, here's where we suggest eating at Magic Kingdom:
Jungle Skipper Canteen in Adventureland
Enjoy a full-course vegan meal when you dine at Jungle Skipper Canteen. Order Falls Family Falafel as an appetizer, Curried Vegetable Crew Stew as an entrée, and Panna-Connie's Congo Lime Delight for dessert.

Liberty Tree Tavern in Liberty Square
Liberty Tree Tavern offers vegan-friendly foods like the Declaration Salad, Impossible™ Meatloaf, and Johnny Appleseed's Warm Apple Cake.

Casey's Corner in Main Street USA
Casey's Corner brings vegan diners dogs that don't disrupt the diet. You can get either a regular Plant-based Dog or a Plant-based Chicago-style Dog.
Vegan-Friendly Foods at EPCOT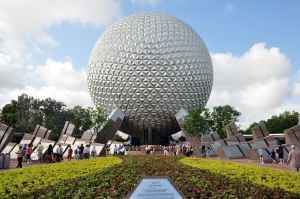 chensiyuan, CC BY-SA 4.0 <https://creativecommons.org/licenses/by-sa/4.0>, via Wikimedia Commons
Most people come to EPCOT to drink around the world — but what about eating? Vegan delights are available at many of the restaurants in each country throughout the park. Here's some of what EPCOT has to offer:
Connections Eatery in World Celebration
Feast on Connections Eatery's vegan food options such as the Niçoise-style Salad and plant-based California Burger. Vegan-friendly sides include coleslaw, fries, Mediterranean side salad, and oranges.

Sunshine Seasons in World Nature
At Sunshine Seasons, vegans can dine on yummy Vegetable Korma or the Mediterranean Vegetable Sandwich. For dessert, try the plant-based Cookies 'n "Cream" Chocolate Mousse Cup.

Regal Eagle Smokehouse in World Showcase
Jackfruit has frequently been used as a meat substitute in a variety of vegan dishes, and Regal Eagle Smokehouse is no stranger to this. Try the plant-based BBQ Jackfruit Burger or the Power Greens Salad and substitute the chicken with jackfruit.

Coral Reef Restaurant in World Nature
Coral Reef Restaurant serves up vegan tastes like the Reef Salad, Mushroom Ravioli, and sweet Baileys Almande and Jack Daniel's Mousse.

Garden Grill in World Nature
Dine as Chip 'n' Dale do by ordering vegan dishes like the Garden Salad, Rice Pilaf, Veggie Loaf with Chunky Tomato Sauce, Garden-Fresh Vegetables, and Berry Short Cake.
Dining Vegan at Hollywood Studios
Coasting on all of Hollywood Studios' thrilling rides is sure to work up an appetite. Here are some of Hollywood Studios' vegan dining options:
Ronto Roasters in Star Wars: Galaxy's Edge
Whether you're dining here for breakfast or lunch, Ronto Roasters has your plant-based dining covered. Order the Triple Suns Breakfast Wrap, a Zuchii Wrap, or Andoan Fruit with Muja Sauce.

PizzeRizzo in Grand Avenue
Try PizzeRizzo's plant-based Spicy Italian "Sausage" Sub, or request for your cheese or vegetable pizza to be made vegan.

Fairfax Fare in Sunset Boulevard
Fairfax Fare offers just one vegan-friendly dining option at its establishment: the Plant-based Soba Noodle Salad Bowl with or without Chik'n.

Sci-Fi Dine-In Theater in Commissary Lane
Sci-Fi Dine-In Theater has got both your vegan appetizers and entrées covered. Order a delicious Spinach and Artichoke Dip with Cashew Cheese and the Flying Saucer Impossible™ Burger.
Vegan Finds at Animal Kingdom
What better way to celebrate World Vegan Month and show your appreciation for animals than by visiting Animal Kingdom this November? Find furry fun and vegan delights all in one place at Animal Kingdom. Here's what you'll find:
Restaurantosaurus in DinoLand U.S.A.
Restaurantosaurus is bringing the heat with its vegan menu option. You can order the Impossible™ Spicy Southwestern Burger and feel the fire between every bite.

Flame Tree Barbecue in Discovery Island
A barbecue restaurant may be the last place you expect to find vegan eats, but Flame Tree Barbecue has something in store for plant-based diners. Give plant-based sausage a taste and try this restaurant's Hot Link Smokehouse Sandwich.

Satu'li Canteen in Pandora – The World of Avatar
Topped with crunchy vegetable slaw and boba balls is Satu'li Canteen's vegan Chili-Spiced Crispy Fried Tofu Bowl — the perfect meal for a meat-free diner.

Tusker House Restaurant in Africa
Vegan buffet lovers can fear not as Tusker House has filling feasts for them as well. Enjoy a full course of Plant-based Jollof Rice with Beyond Sausage and roasted root vegetables with a side of mashed potatoes, feisty green beans, and cauliflower bunny chow. For dessert, try the Plant-based Chocolate Mousse or the Fresh Fruit Salad.

Tiffins Restaurant in Discovery Island
Appetizers, entrées, and dessert can all be made vegan when dining at Tiffins. Order Plant-based Tacos, Szechuan Noodles, and a Tropical Trifle at this restaurant. If your kids are also vegan, they can order the Impossible™ "Chow."

Nomad Lounge in Discovery Island
Located right next to Tiffins is Nomad Lounge, which also offers vegan bites in small portions. You can get the Impossible™ Sliders with no chipotle aioli, a poke bowl with no tuna, and kids can order the Impossible™ "Chow."
What's Vegan at Disney Springs
Disney Springs is the place to go to for magical dining and shopping without a theme park admission. And it has vegan-friendly bites for plant-based foodies at these eateries:
Erin McKenna's Bakery NYC in The Landing
With vegan bakeries like Erin McKenna's Bakery NYC in town, vegans can get their sugary fix without breaking their diet. This bakery has delicious donuts, teacakes, cinnamon rolls, cakes, cookies, ice cream, and so much more. The entire menu is gluten, wheat, soy, dairy, and egg free. This special bakery is also certified Kosher.

City Works Eatery & Pour House in West Side
Whether the bites are big or small, City Works has vegans covered. Order fried pickles, Kung Pao Cauliflower, or the Impossible™ Burger substituted with a vegan bun.

Blaze Pizza in Town Center
Blaze Pizza is a vegan's pizza heaven as you have the freedom to make your pizza however you want. You can get your pizza made with vegan cheese and even top is off with vegan chorizo. The crusts are all vegan, and you can also order vegan cheesy bread.

Local Green Orlando Food Truck in West Side
With green in this food truck's name, there will undoubtedly be plenty of vegan-friendly menu options here. You can get the Oh Boy Beyond Burger, the Badu Veggie Wrap, and the Bubba Sparxx BBQ Jackfruit Sandwich.
Your Go-To Hotel for Vegan Dining at Disney
Rosen Inn Lake Buena Vista is right around the corner from Walt Disney World, so you can get to all your vegan dining destinations in a flash. As a Walt Disney World Good Neighbor® hotel, we're dedicated to ensuring your stay is nothing short of magical. Enjoy peak comfort, relaxation, and unbeatable amenities at an astonishingly low rate.