Adding Disney Magic to Hispanic Heritage Month
Disney celebrates all kinds of cultures throughout the year. Hispanic and Latino cultures are among those celebrated year-round, and it gets even more festive during National Hispanic Heritage Month.
From Sept. 15 to Oct. 15 in the U.S., National Hispanic Heritage Month recognizes and appreciates the contributions and influence Hispanic Americans have had on the history, culture, and achievements of the country.
Celebrate National Hispanic Heritage Month the Disney way and make some magical memories you and your little ones won't forget.
"Together We Are Magia!"
National Hispanic Heritage Month is the perfect time for people to come together and celebrate Hispanic and Latino cultures, and what better place to do so than at the most magical place on Earth?
Disney World offers a variety of ways to learn more about Hispanic and Latino cultures during National Hispanic Heritage Month.
Mexico Folk Art Gallery
In EPCOT's Mexico, you'll find the Mexico Folk Art Gallery, which is an exhibit filled with art created by a variety of prominent Mexican artists. It also includes work inspired by the Disney Pixar movie Coco.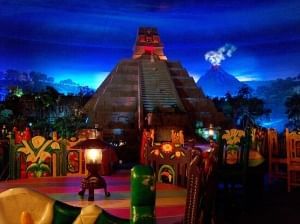 Codyshive, CC BY-SA 3.0 , via Wikimedia Commons
This exhibit is known as "Remember Me!" — La Celebración del Día de los Muertos, and it highlights the spirit and charm of the Day of the Dead where in other countries, especially Mexico, family and friends come together in costumes, throw parades, and make commemorative arts and crafts to celebrate the lives of their loved ones during this holiday.
Papel picado (elaborately cut tissue paper) and calaveras (intricately decorative skulls) are Dia de los Muertos staples, and the Mexico Folk Art Gallery features plenty of fine artwork of both and more.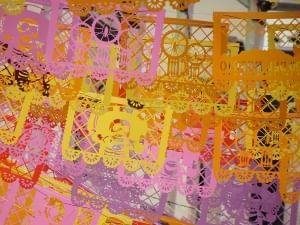 Luis Alvaz, CC BY-SA 4.0 <https://creativecommons.org/licenses/by-sa/4.0>, via Wikimedia Commons
Music of Mexico
It wouldn't be a celebration without music, and Disney's EPCOT in Mexico has plenty live performances. Mariachi Cobre is one of the bands that performs at EPCOT and plays the melodic tunes of traditional folk music from Jalisco, Mexico.
Marimba de las Américas is the other house band that on select days of the week plays a marimba arrangement popular across Latin America.
Viva Gaia Street Band at Animal Kingdom
If your feet aren't too tired from dancing the day away in EPCOT's Mexico, then you'll definitely want to spend a day during National Hispanic Heritage Month at Disney World's Animal Kingdom.
The Viva Gaia Street Band at Discovery Island draws crowds outside for a fun-filled Caribbean street party where you can vibe to the soul-thumping rhythms of the islands.
This band makes the show even more captivating with its vivid masquerade costumes and exciting dance moves.
Disney Adventure Friends Cavalcade
You can find some of your favorite Hispanic Disney characters during the Disney Adventure Friends Cavalcade.
Head over to Main Street, U.S.A., at Disney's Magic Kingdom and watch characters like Encanto's Mirabel and Coco's Miguel parade through the park on a grand adventure!
The Disney Adventure Friends Cavalcade parade route takes you from Frontierland through Liberty Square and down Main Street, U.S.A., and features the most Disney characters out of any cavalcade to date.
Dining at Disney during Hispanic Heritage Month
Dining is one area of the holiday Disney puts a major emphasis on. Last year, a variety of restaurants at EPCOT served authentic Latin dishes exclusively during Hispanic Heritage Month.
Some dishes included cochinita pibil tacos at Choza de Margarita, the hot and fresh tamales at La Hacienda de San Angel, and Sunshine Seasons' Chef Veronica's birria tacos.
Expect this year's events to mirror much of last year's. Disney sends updates via social media, which you can track at #TogetherWeAreMagia.
Many more events and celebrations at Disney World for National Hispanic Heritage Month are to come, so plan how you'll celebrate ahead of time by taking part in the variety of festivities and attractions the parks have to offer.
Fiesta y Siesta at Rosen Inn Lake Buena Vista
Once you've had your fill of partying and appreciating Hispanic and Latin cultures at Disney, your friends at Rosen Inn Lake Buena Vista are only a hop, skip, and jump away from the festivities.
We provide comfort, convenience, and a relaxing siesta you won't find anywhere else. As a good neighbor hotel partner with Disney World Resorts, we offer complimentary shuttles to Disney's theme parks.
When you're ready for the fiesta to continue, getting to Walt Disney will be one less hassle for you to worry about.