Buy Local in these 5 Orlando Neighborhoods on 407 Day
Orlando may be best known for its unrivaled theme parks. But there's plenty more to love about the City Beautiful.
Each year on April 7, Orlando comes together for 407 Day. The holiday is a celebration of the small businesses whose unique merch and mouthwatering meals make the city even more magical. If you've made a few phone calls while planning your Orlando vacation, the number 407 may look familiar. It is the area code for the city and many of its suburbs.
This 4/7, take a break from the castles and coasters to explore some of local Orlando businesses, many of which are family friendly.
We've created this city guide to help you eat, drink, shop, and play like a local this 407 Day.
International Drive and Millenia
Chances are, you already know International Drive for its world-famous theme parks and other large-scale attractions. Shoppers from all over also flock to the nearby Mall at Millenia for its department stores and high-end retailers.
But the area is also home to independently run businesses of all sizes.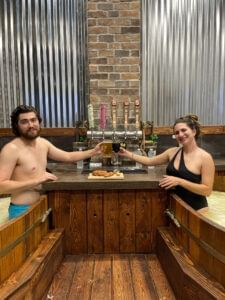 This 407 Day, explore some of these Orlando hotspots:
Eat: Top tapas spot Café Tu Tu Tango was opened by a group of friends in the '90s. It has made a lasting impression on visitors, locals, and even Rachael Ray. For lighter fare, visit Greens & Grille, a salad and sandwich stop by the Mall at Millenia.
Drink: Start your day at local coffee chain CFS Coffee, whose Kirkman Road location offers unique coffee, tea, and smoothie options. Beat the Florida heat with a trip to ICEBAR, where even the furniture is made of ice.
Shop: Manifest a great Orlando vacation with crystals from Moondance Trading in Pointe Orlando. Independent jeweler Tharoo & Co. sells everything from glittering diamonds to designer watches, perfect for a special occasion.
Play: The Arie family runs Fun Spot, a small theme park with HUGE personality and free admission. When the time comes to unwind, hop over to Beer Spa, where hot tubs and cold beer provide maximum relaxation.
Lake Buena Vista, Celebration, and Kissimmee
South of the city is another theme park hot spot you know and love. All around the Disney area, you'll find businesses run by intrepid entrepreneurs.
On 407 Day, celebrate the small business owners that hold their own in one of the world's most-visited places.
Eat: Celebrate Florida history while eating superb Spanish cuisine at Columbia Restaurant, part of the state's oldest family of restaurants. Local Green sells delightful plant-based and pescatarian fare from a food truck in Disney Springs.
Drink: Island Grove Wine Company's fruit wines and family-friendly atmosphere have made them one of the best wineries in Orlando. XO Coffee Shop serves hand-crafted lattes and specialty teas in a cozy Kissimmee café.
Shop: Bring some Orlando magic home with you with a visit to Bowe's Signature Candles. Their Memories Collection features candles inspired by local theme parks. Then, stop by Market Street Gallery in Celebration, a small business that sells Funko Pop figures and Loungefly bags.
Play: Take your Orlando vacation to new heights at Kissimmee's Tree Trek ropes course. Or take a bite out of boredom at Gatorland, which the Godwin family opened in 1949.
Winter Park, Audubon Park, and Baldwin Park
As you travel northeast from downtown Orlando, the high-rises and museums give way to majestic oak trees, lush gardens, and lovingly upkept mansions and midcentury bungalows.
The Orlando neighborhoods of Audubon Park and Baldwin Park and upscale suburb of Winter Park have something for every traveler. Visit on 4/7 for fine dining, outdoor recreation, and artsy fun.
Eat: Feast upon award-winning ramen, giant cookies, or vegan chicken sandwiches at bustling food hall East End Market. To pay tribute to beloved barbecue chain 4 Rivers, visit their O.G. location on Fairbanks Ave. in Winter Park.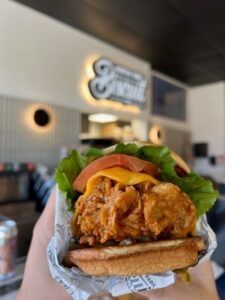 Drink: See what's brewing at Foxtail Coffee, a local chain whose flagship café is in Winter Park. Close out your 407 Day with live music and creative craft beers at Redlight Redlight.
Shop: Find inspiration for your yard at Palmer's Gardens and Goods. Book lovers can explore Orlando's literary scene at Writer's Block bookstore.
Play: Set sail for serene lake views and tales about some of Orlando's most accomplished residents with the Winter Park Boat Tour. Or have fun on dry land with a stroll through Leu Gardens. This botanical garden boasts lush tropical plants from all over.
SoDo and the Hourglass District
South of downtown Orlando, you'll find SoDo and the Hourglass District. The two Orlando neighborhoods are undergoing a culinary and retail renaissance.
Spend a day sipping craft beer and browsing locally made merchandise to see why they're some of the hottest areas in the city.
Eat: With expertly cooked burgers, vegan mac and cheese, and gluten-free rice bowls, Hungry Pants has something for everyone. As the name suggests, Tamale Co. serves mouthwatering tamales and other Latin street food.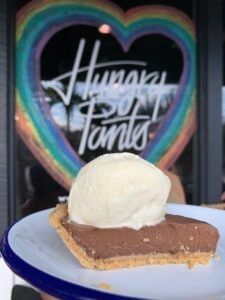 Drink: Hourglass Brewing serves everything from bold IPAs to splendid sours in their taproom. Or unwind with a kava drink, mocktail, or seasonal kombucha at SoDo Kava.
Shop: Pop some tags at Community Thrift Store, a cash-only secondhand store. Those traveling with a special someone can surprise their sweetheart with a bouquet from Plant Daddy.
Play: Get into the groove at a classical music or jazz show at Timucua Arts Foundation. Sporty squads can rent an indoor soccer field at Free Kick Orlando.
West Orange
The western suburbs of Orlando have a long history of innovation. In the late 19th century, the Orange Belt Railway made the area a major trading hub. With the train came a slew of small businesses. While the train line is now a biking and walking trail, the area's entrepreneurial spirit remains.
Head west this 407 Day to have a blast at these local businesses.
Eat: The owners of Yellow Dog Eats lovingly converted a 1910 home into a tasty sandwich and barbecue joint. Bosphorus serves award-winning Turkish cuisine at four Orlando restaurants, including spots in Dr. Phillips and Winter Garden.
Drink: Start your adventure with coffee and a breakfast sandwich at House Blend Café. This Ocoee coffee shop donates its proceeds to local and international nonprofits. Later, crack open a cold one at the award-winning Crooked Can Brewing Company.
Shop: Winter Garden's Driftwood Market sells home décor and kids' toys and clothes. Much of their merchandise is made locally. Meanwhile, Pistil Home and Garden is your go-to spot for unique gifts on Windermere's Main Street.
Play: See a show at the Garden Theater, housed in a historic Winter Garden building. Or rent some wheels from West Orange Bikes and Blades and hit the trail.
Lake Nona
Orlando ushered in the new millennium with the establishment of Lake Nona. The walkable neighborhood has welcomed several small businesses in the past two decades and is still growing.
As you explore this 407 Day, admire the sculptures and murals that adorn the streets, many of which were made by local artists.
Eat: At Boxi Park, you have your pick of cuisine, including lobster rolls, soft-serve sundaes, and tacos with slow-roasted meat. If a slice sounds nice, pay a visit to Park Pizza & Brewing Co.
Drink: Canvas Coffee serves coffee, lattes, and smoothies every morning. Health-conscious travelers will love the cold-pressed juices at Veg'n Out. End your Lake Nona adventure with $7 cocktails and wine or $5 brews during Nona Blue's happy hour.
Play: Make a splash at Nona Adventure Park, an obstacle course on a gorgeous lake. See what the Team at Back to Nature Wildlife is doing to help Florida's wildlife. Or perfect your golf swing at Drive Shack.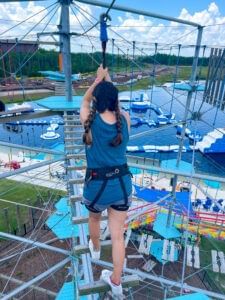 More 407 Day Fun
As you can see, Orlando's small business scene is thriving. There are so many great places to visit on 407 Day that we had to split our recommendations between two blogs. For more 407 fun, check out our guide to downtown, East Orlando, and the neighborhoods and suburbs north of Orlando here.
Your Home Base for 407 Day
As April 7 draws to a close, return to your cozy guestroom at Rosen Inn Lake Buena Vista. As part of the independently run Rosen Hotels & Resorts brand, we have the utmost respect for the area's ambitious small business owners.
Between our Orlando hotel and the other six Rosen properties, you'll find many ways to have a blast on 407 Day and beyond.
Eat: Watch as the skilled chefs at Shōgun prepare teppanyaki classics tableside. This Japanese steakhouse is located at our sister hotel, Rosen Inn. When you wake up on April 8, a bountiful breakfast buffet will await you at Rosen Inn Lake Buena Vista's Boardwalk Buffet Restaurant.
Drink: At Rosen Inn Lake Buena Vista, you can enjoy an Alligator Drool IPA, brewed exclusively for Rosen, at our on-site lounge.
Shop: Our hotel's Lite Bite Deli is full of fun souvenirs and travel essentials.
Play: Between our on-site playground, arcade, pools, and splash pad, guests of all ages will have a blast at Rosen Inn Lake Buena Vista.
Rosen Inn Lake Buena Vista provides easy access to I-4 and other major roads, making it easy to explore Orlando this 407 Day.