Getting Creative at EPCOT's 2024 Arts Festival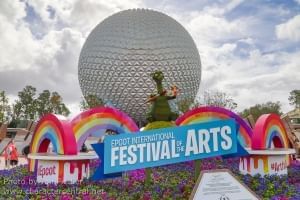 PeterPanFan, CC BY-NC-ND 2.0 DEED, via Flickr
Calling all creatives! EPCOT, Walt Disney World's festival central, is bringing back its annual International Festival of the Arts in January, and you're invited. Whether you enjoy it visually, through performances, or through the food you eat, you'll be immersed in a world of artistic excellence this 2024.
For Visual Arts Lovers
What sets EPCOT's International Festival of the Arts apart from other art exhibitions is that it allows visitors to get in touch with their creative side and interact with the exhibits. Details for 2024's festival are still in the works, but activities remain fairly consistent each year.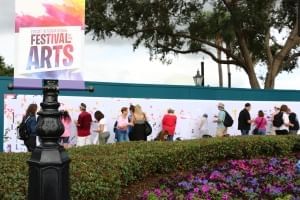 Inside the Magic, CC BY-NC-ND 2.0 DEED, via Flickr
Awaken your inner artist and add your touch to the Paint-by-Number Mural. Every day, EPCOT includes a paint-by-number mural in the park where guests can be a part of the magic and hand paint squares, watching artwork come to life throughout the day. 2023's mural was near the Imagination Pavilion toward the World Showcase.
Admire the Disney chalk art around EPCOT all festival long, or let your kids' artistic abilities shine by having them create chalk art of their own. You and the art can become one in the same through EPCOT's photo ops; insert yourself into a display and appear as part of the work itself!
Put your hunting skills to the test with Figment's Brush with the Masters Scavenger Hunt, a pay-to-play activity where you have to hunt down Figment around the park using a map. Winners will receive a prize when they complete their hunt.
Disney wouldn't be where it is today without animation, and during the International Festival of the Arts, you can become part of the process at Animation Academy. Get step-by-step instructions from a Disney artist and master the art of drawing Disney characters.
Peruse the World Showcase and find a variety of galleries and art for sale. Some showings include schedules where guests can meet the artists as well.
For Performing Arts Fanatics
Throughout the day, you can see professionally trained acrobats perform during their Art Defying Gravity show.
You can also watch the creation of artwork in action during Art in Performance where the audience gets a live view of an artist painting a Disney character.
Disney has always been one for having musical numbers in its media, and the same remains true in the theater department. Watch Disney stars take the stage at the America Gardens Theatre during the Disney on Broadway concert series. 2023's festival included performances from stars such as Arielle and Adam Jacobs from Aladdin, Kissy Simmons from The Lion King, and Robert Creighton from The Little Mermaid.
For Culinary Arts Enthusiasts
If you're coming to EPCOT, you already know all about the park's "Drinking Around the World," but during the International Festival of the Arts, you get to snack around the world too!
In 2023, there were 16 food and beverage booths around EPCOT, so you can expect there to be about the same in 2024. These booths bring big flavors in smaller portions for around $5-$10 per item.
Expect exceptional presentations and first-rate flavors from the foods at this festival. In 2023, EPCOT introduced two new food studios: Moderne, which offered avant-garde food options, and Figment's Inspiration Station, which brought foods with vibrant colors and flavors.
Some dishes and drinks offered at the previous festival include deconstructed French onion soup, chai tea mint sparkler, chorizo and potato empanada, fruit pizza, and mozzarella fritta.
Planning Your Visit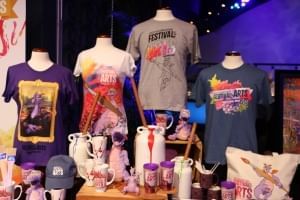 Inside the Magic, CC BY-NC-ND 2.0 DEED, via Flickr
EPCOT's International Festival of the Arts is one of the park's shorter festivals, beginning around mid-January and lasting until late February. The best part about attending the festival is getting to enjoy EPCOT at the same time as festival access is included with admission to EPCOT.
If the idea of navigating your festival activities seems overwhelming, snag one of Disney's Festival Passports, which offers checklists for every booth and useful information on festival offerings.
It's most ideal to enjoy every artistic aspect of the festival in one day, but it's hard to do so without proper planning. Lovers of live theater will want to make sure they consult a times guide or entertainment schedule as performances occur sporadically throughout the day; some performers have short sets or only come out a few times a day.
Plan your day around the scheduled live entertainment as visual and culinary arts can be enjoyed at any time of day, and you're sure to have a fulfilling and memorable festival experience.
Be Close to the Fun at Rosen Inn Lake Buena Vista
Craving cozy beds and convenience close to all the fun? Luckily for you, Rosen Inn Lake Buena Vista is our closest inn to the Disney parks. Come to Orlando and enjoy complimentary shuttle services to all our famed theme parks so transportation is one less thing for you to worry about during your vacation.
When your time out on the town is through, come take pleasure in our ample amenities suitable for people of all ages. From delicious dining and relaxing swimming pools to an exciting arcade and an invigorating splash pad, Rosen Inn Lake Buena Vista offers enjoyment for everyone.