Rosen Inn Lake Buena Vista's Christmas Buffet 2023
The holiday season is a time of joy, togetherness, and, of course, indulgence. At Rosen Inn Lake Buena Vista, we understand the significance of making Christmas special for you and your loved ones. This is where the magic happens, where the aroma of seasonal spreads fills the air, and where cherished memories are made.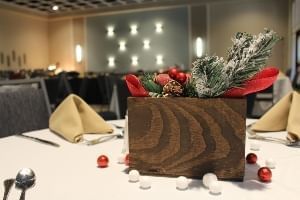 That's why we invite you to join us for a Christmas Day buffet that goes beyond the ordinary. Let us be your culinary hosts, creating unforgettable moments during this special time of year.
Now, let's dive into the star of the show - our 2023 Christmas buffet menu, where every dish is a celebration.
Enchanting Entrees
In the realm of holiday feasting, our entrées are the true showstoppers, weaving a tapestry of flavors that celebrate the spirit of Christmas.
The pan-seared salmon, perfectly seared to a delicate crispness, is served alongside cheese-stuffed fried gnocchi, creating a delightful fusion of textures and tastes.
For those craving a traditional holiday favorite, our carved honey ham takes center stage, complemented by the smoky sweetness of grilled pineapple.
These delectable dishes are a mere glimpse of the festive culinary delights awaiting you at the Christmas dinner buffet where every bite is a celebration of joy and flavor.
Savory Sides
These side dishes play a vital role as the supporting cast, the heartwarming companions to your festive feast, and are ready to elevate your dining experience to new heights.
Our roasted yellow pepper and crab bisque is a velvety blend of sweet peppers and succulent crab, delivering a warm and comforting taste of the holidays in every spoonful.
For a refreshing twist, our Lake Buena Vista seafood salad combines the freshest catches of the sea with crisp greens and zesty dressing, creating a vibrant and invigorating dish.
These soups and salads are the perfect accompaniments to your festive feast, adding a touch of elegance and flavor to your holiday celebrations.
Dazzling Desserts
No grand feast is complete without a sweet finale, and our desserts are here to cast their sugary spell on your taste buds.
Our donut wall is a double treat - not only are the donuts delicious, but they also make for a fantastic photo opportunity.
Imagine an eye-catching display of colorful and delectable donuts that practically beg to be captured in a picture.
The best part? That's only one of the desserts that await you at the end of your meal!
Christmas Dinner Plans Done!
Mark your calendars for Monday, December 25, 2023, and head to our Bella Vista Ballroom between 11:30 a.m. to 5 p.m.
The pricing for this extraordinary experience is as follows:
- Adults: $35.95* (plus tax and service charge)
- Children (4 to 11 years): $17.95 (plus tax and service charge)
- Kids 3 and under EAT FREE with a paying adult (Limit one child per paying adult)
- Complimentary Wine for guests 21+
Spend Your Holidays at Rosen Inn Lake Buena Vista
As you gather with family and friends on Christmas Day, let us be a part of your festivities, creating a culinary wonderland where every bite is a memory in the making.
The holiday buffet at Rosen Inn Lake Buena Vista is not just a meal; it's a celebration of the holiday spirit, a feast for the senses, and a testament to the joy of sharing good food with loved ones.
Reserve your spot today and let us make this Christmas a truly merry and memorable one for you and your family.