Advantages of Staying in a Hotel
When going on vacation, your hotel is your home away from home. It provides all the comforts, security, and entertainment you need when not exploring the attractions surrounding you. Rosen Inn Lake Buena Vista is a great place to call home as it is less than two miles away from Walt Disney World. We also provide additional conveniences so our guests continue to find our hotel advantageous.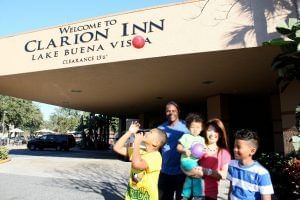 Why bother staying in a vacation home where you have to cook your own meals and leave the premises to find entertainment? What if your vacation home plans fall through? Can you walk into another one for instant booking? Such inconveniences when you are trying to enjoy your getaway can sour a vacation. Staying at a hotel can take away some of these uncertainties and instead allow you to be pampered while on vacation.
Advantages of a hotel stay at Rosen Inn Lake Buena Vista:
With us, you can book a reservation in advance or walk up to the hotel to find a room
Our hotel has comfortable beds and bedding to ensure a good night's sleep
24-hour reception and room service are just a phone call away
Uniformed security patrol the hotel 24-hour a day, seven days a week to protect guests
Our guests enjoy on-site entertainment such as the video arcade game rooms and Ozzie's Splash Zone water playground
We offer complimentary Wi-Fi access to help keep you connected with family and friends
On-site restaurants and buffets to take the guess work out of lunch or dinner plans
Guests experience the most indulgence next to our seasonally-heated swimming pools
Complimentary scheduled shuttle services to nearby attractions offer convenient transportation
The best part is that you have access to all these luxuries when you book a guestroom. Guests at Rosen Inn Lake Buena Vista experience world-class service, have access to countless amenities, and bask in the unique experiences that makes Orlando famous. Book your stay with us to have the experience of a lifetime. Call 800.999.7300 today.