Dinosaur Invasion at Leu Gardens
From January 18 to April 18, 2021, guests of all ages are invited to Orlando to discover what life was like millions of years ago. During Dinosaur Invasion at Leu Gardens, visitors can embark on an exciting Jurassic adventure that features some of the world's most fearsome and favorite prehistoric creatures hidden throughout the beautiful botanical oasis. Here are some of the dinosaurs and attractions you can expect at the larger-than-life exhibit.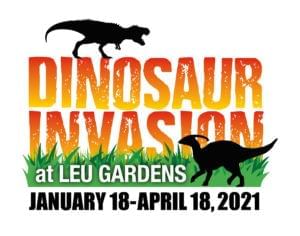 Dinosaur Invasion Attractions
The Dinosaur Invasion showcases different species of dinosaurs carefully created by Guy Darroug. Having spent more than 45 years working in paleontology and studying and collecting fossils, Darroug has crafted finely detailed and accurate depictions of each creature, resulting in one of the most prominent dinosaurs exhibits in America. From 14-inch to 33-foot replicas including T-Rex's cousin, the Daspletosaurus, the exhibit features 20 life-size dinosaurs for guests to explore and encounter with the help of a provided dinosaur-hunting map.
Dinosaur Invasion at Leu Gardens Event Information
Daytime Garden Admission: While Leu Gardens members get in for free, adult admission is $10 and children ages 4–17 each cost $5. Complimentary admission is also available for children aged 3 and under.
Payment Options: Only cashless payments are currently being accepted. Guests can purchase Online Daytime Garden Admission Tickets or use credit cards when they arrive at the Welcome Center.
Daytime Hours of Operation: The attraction is open Sunday to Saturday from 9:00 a.m. to 5:00 p.m.
Early Closing: The attraction will close early on Saturday, April 10, 2021, at 3:00 p.m. with last admission at 2:30 p.m.
Safety policy: Guests are required to wear face coverings inside all buildings.
Rest Up at Rosen Inn Lake Buena Vista
After trailing through the Dinosaur Invasion at Leu Gardens, enjoy a stay at Rosen Inn Lake Buena Vista to rest and relax at the end of your day. As a Walt Disney World Good Neighbor Hotel, Rosen Inn Lake Buena Vista is located close to all of Orlando's amazing attractions and theme parks.
In addition to offering a clean and comfortable room at an affordable price, our renovated hotel is committed to making your stay in Orlando a safe one. New safety measures at our hotel include the use of hospital-grade disinfectants in each guestroom prior to check-in, clear protective borders at the front desk, hand sanitizer dispensers stationed throughout our hotel, and floor markers to promote social distancing. Read all about our latest changes in our Rosen's Total Commitment document.
Enjoy an Orlando vacation by staying at Rosen Inn Lake Buena Vista. Call 407-996-7236 or click "Check Room Availability" at the top of the page. We look forward to your stay at our hotel!